Spis
Miejscowości Rzeczypospolitej Ludowej

(Gazetteer of the Polish People's Republic
Warsaw, 1967
Since this gazetteer was compiled in 1967, the historic region of Eastern Galicia/Halychyna is NOT included as it was at that time a part of the Ukrainian Soviet Socialist Republic in the Union of Soviet Socialist Republics (USSR).
However, the historic region of Western Galicia, which has remained in Poland since 1918.
Family History Library microfilm number:
2,037,058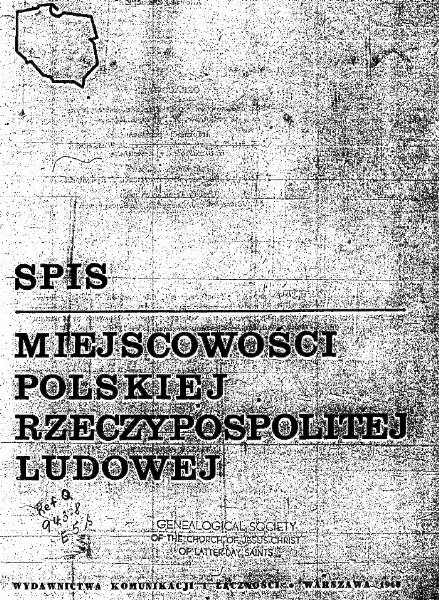 Columns

Nazwa i rodzaj
miejscowości
Gromada
(osiedle-osied.)
(miasto-m.)
Siedziba
PRN
Województwo
Poczta
Stacja,
Przystanek kolejowy
Urząd stanu cywilnego
Name and Type
Of Locality
Administrative District
(Estate)
(Town)
Head Office of
People's District Council
Province (as of
1967)
Post Office
Railroad Station
Vital Records Office
Notes on key features of the gazetteer:
Name and Type of Location.
Some abbreviations and translations

| | | |
| --- | --- | --- |
| Abbreviation | Polish | English |
| kol. | kolonia | colony |
| m. | miasto | town |
| os. | osada | settlement |
| osied. | osiedle | housing development |
| przys. | przysiołek | hamlet |
| w. | wieś | village |
Województwo / Province lists the province as it was in 1967! These provincial boundaries were in place between 1945 and 1975. The province boundaries were changed again between 1975 and 1998, and rearranged yet again in 1999 through to the present.
Therefore, the province listed in this gazetteer will not correspond to the current province boundary and will not be found on a current map. But the column information is nonetheless important since there are many localities with the same name found all across the country.
Urząd Stanu Cywilnego / Vital Records Office. This column is extremely important to the genealogist since it lists where vital records were recorded (and possibly held) in 1967. Again, understand that the jurisdiction may have changed since the gazetteer was published. And as indicated before, Polish vital records are not only found in these Vital Records Offices, but could also still be in the church, or in the diocesan/archdiocesan archive, or in a state archive (either in a provincial archive or in the central archive in Warsaw (Archiwum Główne Akt Dawnych, commonly abbreviated as AGAD).
Sample page (click to enlarge):