Photos of
Hayu
(Гаю)

/ Haju


A hamlet between the villages of Czeremosznia and Usznia.
At the time of my ancestors' immigration to America, there were only a handful of families: Makarowsky, Bałuczyński, Grabowski.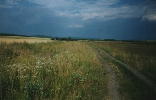 Dirt road that once led to the hamlet Hayu (Gaju), where my great-grandfather Stefan Makarowsky was born.