S
ł

ownik geograficzny Kr

ó

lestwa Polskiego

i

innych kraj

ó

w s

ł

owia

ń

skich

Geographic Dictionary of the Kingdom of Poland and Other Slavic Countries
15 volumes. 1880-1902

Available either on microfilm at the Family History Library in Salt Lake City (which can be ordered through your local Family History Center) or online.

Online Instructions:

DIR version (Domena Internetowych Repozytoriów Wiedzy)
Click on the link to DIR's Słownik Geograficzny page. Click on the appropriate volume number (see the chart below for the contents of each volume). You can search the gazetteer by typing in your village (using Polish letters/diacritic marks, like ą, ę, ł, etc.) in the left-hand box after "Wyszukiwanie w książce" ("Look up in the book"), then click "Szukaj" ("Search").


University of Warsaw Library version
First, you must download the reader (called DJVu Browser), which is available at: http://www.lizardtech.com/download/dl_optinos.php?page=plugins or http://www.celartem.com/en/download/djvu.asp . Download the appropriate Browser (Windows for Windows users, Mac for Macintosh users).
Then, visit a site containing a Table of Contents for the massive 15 volume collection. This makes for easier searching.

Family History Library Microfilm Numbers:
| | | |
| --- | --- | --- |
| Volume | Locality by Polish alphabet | FHL microfilm no. |
| Volume 1 | As – Dereneczna | 920957 |
| Volume 2 | Derenek – Gżack | 920958 |
| Volume 3 | Haag – Kepy | 920959 |
| Volume 4 | Kęs – Kutno | 920960 |
| Volume 5 | Kutowa – Malczyce | 920961 |
| Volume 6 | Malczyce – Netreba | 920962 |
| Volume 7 | Netreba – Perepiat | 920963 |
| Volume 8 | Perepiatycha – Pożajście | 920964 |
| Volume 9 | Pożajście – Rukszenice | 920965 |
| Volume 10 | Rukszenice – Sochaczew | 920966 |
| Volume 11 | Sochaczew – Szlurbowska Wola | 920967 |
| Volume 12 | Szlurpkiszki – Warłynka | 920968 |
| Volume 13 | Warmbrunn – Worowo | 920969 |
| Volume 14 | Worowo – Żyżyn | 920970 |
| Volume 15 | Ababi – Januszowo (addendum) | 920971 |
| Volume 15 | Januszpol – Śniatyn (addendum) | 920972 |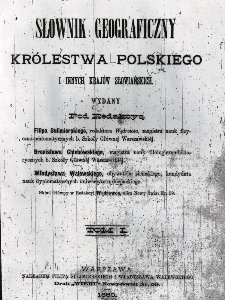 This massive collection took over 20 years to publish all 15 volumes. The gazetteer was published when officially there was no Poland in existence. From 1772 to 1918, Poland was dominated by three empires: Austria (later known as Austria-Hungary), Russia and Prussia. The gazetteer contains a great wealth of information on cities, towns, and villages, as well as mountains, rivers, and other geographic points of interest in the lands that were once a part of the old Kingdom of Poland. Although some areas are given preference, namely the region controlled by the Russian Empire, the region of Galicia, including Halychyna/Eastern Galicia is well represented.

This reference can be challenging to use. However, this should not dissuade even the beginner genealogist from attempting to use it. The gazetteer presents information in long text form in Polish. The text may include archaic terms and cryptic abbreviations which makes the gazetteer somewhat complex. If you don't understand Polish, you'll have to find a translator or use a very good dictionary (though the complex grammar of Polish makes using a dictionary not an easy task for someone not familiar with Slavic grammar). Even if you have a fair knowledge of Polish, you many not understand all the meanings of all of the words due to the many archaic terms. Remember to check the beginning of each volume for an index to the abbreviations used. Click on the images below to see the index of abbreviations.

When

using the gazetteer, remember that it follows the Polish alphabetical sorting rules. Letters with diacritic marks (ą, ę, ć, ł, ń, у, ś, ż, ź) are considered separate letters and therefore come after the letter it closest resembles. Therefore, Pajewo comes before Pajęczno. This can be tricky if you are not familiar with the Polish alphabet, so give yourself time when using the reference.

When there are several villages with the same name, each unique entry is separated by a number. Check the county (powiat in Polish, povit in Ukrainian) to determine which particular village is yours. Remember that the county is often give in its adjectival form in Polish. (In Polish grammar it makes sense since it is describing what kind of county it is.)

The adjectival form closely resembles the form you are used to seeing. So long as you know that Lwowski powiat is the same as the powiat of Lwów, you won't have a problem.

Examples of adjectival forms versus the standard form (for you linguists, that's the proper noun in the nominative case!).

Between the two world wars, Poland ruled the region of Halychyna/Eastern Galicia. Here are the three provinces (województwa in Pol./ voievodstva ( воєводства) in Ukr.) in southeastern Poland at that time:
Polish
Ukrainian
Lw

ó

w
L'viv
Tarnopol
Ternopil
Stanis

ł

aw

ó

w
Stanislaviv
(now known as Ivano-Frankivsk)
Here are the counties (powiaty in Pol./ povity (повіти) in Ukr.) that made up each of the three provinces above:
Adjectival form in Polish
Proper Noun in Polish
Proper Noun in Ukrainian
Bohorodczański
Bohorodczany
Bohorodchany
bobrecki
B

ó

brka
Bibrka
borszczowski
Borszcz

ó

w
Borshchiv
brodzki
Brody
Brody
brzeżański
Brzeżany
Berezhany
brzozowski
Brzoz

ó

w
Bereziv
buczacki
Buczacz
Buchach
czortkowski
Czortk

ó

w
Chortkiv
dobromilski
Dobromil
Dobromyl'
doliński
Dolina
Dolyna
drohobycki
Drohobycz
Drohobych
grуdecki
Gr

ó

dek Jagielloński
Horodok
horodeński
Horodenka
Horodenka
jarosławski
Jarosław
Yaroslav
jaworowski
Jawor

ó

w
Yavoriv
kałuski
Kałusz
Kalush
kamionecki
Kamionka Strumiłowa
Kaminka Strumylova / Kamyanka Strumylova
kobuszowski
Kolbuszowa
Kolbushovo
kołomyjski
Kołomyja
Kolomyia
kopyczyniecki
Kopyczyńce
Kopychyntsi
kosowski
Kos

ó

w Pokucki
Kosiv Pokutskyi
krośnieński
Krośno
Krosno
leski
Lesko
Lisko
lubaczowski
Lubacz

ó

w
Liubachiv
lwowski
Lw

ó

w
L'viv
łańcucki
Łańcut
Liantsut
mościski
Mościska
Mostys'ka
nadwуrniański
Nadw

ó

rna
Nadvirna
niżański
Nisko
Nisko
podhajecki
Podhajce
Pidhaitsi
przemyski
Przemyśl
Peremyshl'
przemyślański
Przemyślany
Peremyshliany
przeworski
Przeworsk
Perevorsk
radziechowski
Radziech

ó

w
Radekhiv
rawski
Rawa Ruska
Rava Rus'ka
rohatyński
Rohatyn
Rohatyn
rudecki
Rudki
Rudky
rzeszowski
Rzesz

ó

w
Riashiv
samborski
Sambor
Sambir
sanocki
Sanok
Sianik
skałacki
Skałat
Skalat
skolski
Skole
Skolie
sokalski
Sokal
Sokal'
stanisławowski
Stanisław

ó

w
Stanislaviv (now Ivano-Frankivs'k)
starosamborski
Stary Sambor
Staryi Sambir
stryjski
Stryj
Stryi
strzyżowski
Strzyż

ó

w
Stryzhiv
śniatyński
Śniatyn
Sniatyn
tarnobrzeski
Tarnobrzeg
Tarnobereh
tarnopolski
Tarnopol
Ternopil'
tłumacki
Tłumacz
Tlumach
trembowelski
Trembowla
Terebovlia
turczański
Turka
Turka
zaleszczycki
Zaleszczyki
Zalishchyky
zbaraski
Zbaraż
Zbarazh
zborowski
Zbor

ó

w
Zboriv
złoczowski
Złocz

ó

w
Zolochiv
żуłkiewski
Ż

ó

łkiew
Zhovkva
żydaczowski
Żydacz

ó

w
Zhydachiv


Here is are two sample entries.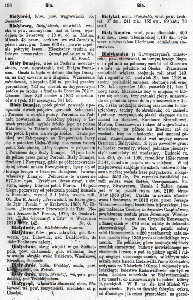 This longer paragraph is for Biały Kamień (in Ukr. Bilyi Kamin / Білий Камінь)
(Click on the image to make it larger.)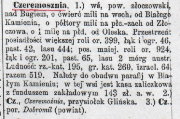 This one is a smaller one for the village Czeremosznia
(in Ukr. Cheremoshnia / Черемошня)
(Click on the image to make it larger.)